Intensity Shuttle Thunderbolt
513.99лв.
Intensity Shuttle Thunderbolt
The Blackmagic Design Intensity Shuttle with Thunderbolt lets you accomplish one or more of four tasks — grab footage out of a camera, pass it to a computer, adjust resolution up or down along the way, and, at the same time, or at anytime, connect to a top-quality HDMI monitor and perform color-correction in the best available resolution.
Video gets captured uncompressed, meaning its bits and pieces are let out of their cage — out of the algorithm that packed them tight onto the camera's memory card — and are shuttled through to a computer without any further loss, whereas without capacity for uncompressed transfer, not many alternatives can substitute sufficiently.
The transfer from the camera to the Shuttle is done through an HDMI cable, and from the Shuttle to the computer can also be by HDMI, but available on the Shuttle is a Thunderbolt port, which is an advanced data-transfer technology that with a 10Gbps capacity is extremely fast. Thunderbolt is also bidirectional and can thus serve as an input and an output. The receiving computer — or storage device — must also be equipped with Thunderbolt. Macs were the first of any devices to be equipped, and all Macs are equipped.
Data does not stay in the Shuttle before moving on to the computer. The Shuttle serves as a pass-through only; and at the data's passing through, resolution can be adjusted to arrive in the computer higher or lower. SD can become HD and vice-versa, so that if you have footage from different cameras shot in different resolutions, you can match them up to look the same.
The Shuttle is a capture-and-playback device, more often referred to as an I/O device for its inputs and outputs. Aside from the HDMI and Thunderbolt connections already mentioned, the Shuttle also has analog video ins and outs, as well as HDMI and RCA audio ins and outs.
The Shuttle is portable, allows many conveniences in transferring footage, affords quality transfers, and delivers video to computers in codecs most recognized by popular editing systems.
Product Description
WHAT'S IN THE BOX
Intensity Shuttle for Thunderbolt™
Software CD
CONNECTIONS
ANALOG VIDEO INPUT
Independent connections for Component, Composite and S-Video.
ANALOG VIDEO OUTPUT
Independent connections for Component, Composite and S-Video.
HDMI VIDEO INPUT
1 x HDMI type A connector.
HDMI VIDEO OUTPUT
1 x HDMI type A connector.
ANALOG AUDIO INPUT
2 Channel RCA HiFi audio in 24-bit.
ANALOG AUDIO OUTPUT
2 Channel RCA HiFi audio in 24-bit.
HDMI AUDIO INPUT
8 Channels.
HDMI AUDIO OUTPUT
8 Channels.
SPDIF AUDIO OUTPUT
2 Channel 24-bit.
DUAL RATE SUPPORT
HDMI and Analog Component switches between high definition and standard definition.
COMPUTER INTERFACE
Thunderbolt™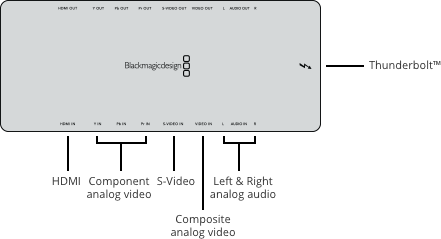 STANDARDS
SD FORMAT SUPPORT
625i50 PAL, 525i59.94 NTSC, 625p50 PAL,525p59.94 NTSC
HD FORMAT SUPPORT
720p50, 720p59.94, 720p60
1080p23.98, 1080p24, 1080p25, 1080p29.97, 1080p30
1080i50, 1080i59.94, 1080i60
HDMI VIDEO SAMPLING
4:2:2 YUV
HDMI AUDIO SAMPLING
Television standard sample rate of 48kHz and 24-bit.
HDMI COLOR SPACE
REC 601, REC 709
HDMI COLOR PRECISION
10-bit
COPY PROTECTION
HDMI input is unable to capture from copy protected HDMI sources. Always confirm copyright ownership before capture or distribution of content.
PROCESSING
COLORSPACE CONVERSION
Hardware based real time.
HD DOWN CONVERSION
Software based down conversion during video playback.
HD UP CONVERSION
Real time standard definition to 1080HD and 720HD during video capture.
REAL TIME EFFECTS
Final Cut Pro X internal effects. Premiere Pro CC Mercury Playback Engine effects. Avid Media Composer internal effects.
SOFTWARE
SOFTWARE INCLUDED
DaVinci Resolve, Media Express, Disk Speed Test, LiveKey, Blackmagic Desktop Video Utility and Blackmagic driver on Mac OS X and Windows.
INTERNAL SOFTWARE UPGRADE
Firmware built into software driver. Loaded at system start, or via updater software.
OPERATING SYSTEMS

Mac OS X 10.10 Yosemite,
Mac OS X 10.11 El Capitan or later.

Windows 7, 8.1 and 10, all 64-bit.
POWER REQUIREMENTS
POWER SUPPLY
Powered by Thunderbolt cable.
PHYSICAL INSTALLATION
Requires a computer with Thunderbolt™.